Funeral Flowers
A funeral for a friend or loved one can be difficult, but funeral flowers from FLOWER POT FLORIST of Zachary, LA (LA) can help begin the healing process. Funeral flowers provide the opportunity to express how much the departed means to you. Celebrate the life of your loved one with one of the beautiful funeral flower arrangements found here such as: Classic Remembrance Urn, Mixed Flowers Sympathy Tribute or one of our Standing Sprays.
Browse our funeral flowers page to find the perfect sympathy arrangement and place your order online. You can also call and speak with a designer at FLOWER POT FLORIST in Zachary, LA (LA) for funeral flowers just as unique as your friend or loved one. MENTION THIS AD AND WE WILL NOT CHARGE YOU A DELIVERY FEE TO CHARLET FUNERAL HOME.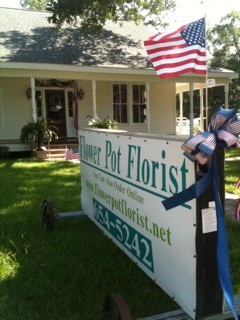 ALL WHITE STANDING SPRAY
Funeral Flowers
$100.00, $125.00, $150.00
Shown at $125.00
Classic, fresh-cut red roses with accents of eucalyptus and other fresh foliage are featured in this beautifully-traditional spray. Let FLOWER POT FLORIST deliver a lovely floral expression of sympathy and reverence for you.
RED ROSES STANDING SPRAY
of Funeral Flowers
$150.00, $200.00, $250.00
Shown at $150.00
GRACEFUL RED & WHITE
Standing Spray of Funeral Flowers
$85.00, $125.00, $175.00
Shown at $125.00
COLORFUL CONDOLENCES TRIBUTE
Funeral Flowers
$80.00, $100.00, $125.00
Shown at $100.00
VIBRANT FLORAL EXPRESSION
Standing Funeral Spray
$85.00, $125.00, $150.00
Shown at $125.00
BRILLIANT SYMPATHY WREATH
Funeral Flowers
$80.00, $100.00, $125.00
Shown at $100.00
REGAL ROSES URN
Funeral Flowers
$125.00, $150.00, $175.00
Shown at $150.00
TWILIGHT SERENITY
Sympathy Tribute
$75.00, $100.00, $125.00
Shown at $100.00
MAGENTA SUNSET URN
Funeral Flowers
$65.00, $75.00, $100.00
Shown at $75.00
ENDURING LOVE STANDING SPRAY
Funeral Flowers
$85.00, $100.00, $125.00
Shown at $100.00
PATRIOTIC MEMORIAL
Funeral Flowers
$60.00, $75.00, $100.00
Shown at $75.00
TRELLIS FLOWER GARDEN
Sympathy Arrangement
$65.00, $75.00, $85.00
Shown at $75.00
THOUGHTFUL REFLECTIONS
Funeral Arrangement
$65.00, $75.00, $100.00
Shown at $75.00
Funeral Homes in Our Delivery Area:
---

Name
Address
Phone

---

Charlet Funeral Home Inc
4230 High St Zachary, LA. 70791
(225) 654-4480
Miller & Daughter Mortuary
5905 Highway 19 Zachary, LA. 70791
(225) 654-3802
Baker Funeral Home
6401 Groom Rd Baker, LA. 70714
(225) 775-1991
Capital Funeral Home Inc
3450 North St Baton Rouge, LA. 70806
(225) 344-0488
Carney & Mackey Funeral Home
1576 Robin St Baton Rouge, LA. 70807
(225) 774-0390
Desselle's Funeral Home
263 Eddie Robinson Baton Rouge, LA. 70802
(225) 383-8891
Greenoaks Memorial Park
9595 Florida Blvd Baton Rouge, LA. 70815
(225) 925-5331
Hollabaugh-Spindle Funeral Hm
1553 Wooddale Blvd Baton Rouge, LA. 70806
(225) 927-1640
Rabenhorst Funeral Home
825 Govin Street Baton Rouge, LA. 70802
(225) 383-6831
Rabenhorst Funeral Home East
11000 Florida Blvd Baton Rouge, LA. 70815
(225) 272-9950
Resthaven Funeral Home
11817 Jefferson Hwy Baton Rouge, LA. 70816
(225) 753-1440
Rhodes United Fidelity Funeral
2929 Scenic Hwy Baton Rouge, LA. 70805
(225) 383-1663
Scott's Bluff Morticians
8546 Scenic Hwy Baton Rouge, LA. 70807
(225) 775-3440
Southside Funeral Home Inc
924 S 14th St Baton Rouge, LA. 70802
(225) 344-6840
Welsh Funeral Home
6700 Florida Blvd Baton Rouge, LA. 70821
(225) 924-7241
Winnfield Funeral Home
7221 Plank Road Baton Rouge, LA. 70811
(225) 357-2675
Seale Funeral Service, Inc.
9995 Hooper Road Central, LA. 70818
(225) 236-0800
Charlet Funeral Home Inc And Monument Co.
10761 Bank St Clinton, LA. 70722
(225) 683-5176
Fraternal Funeral Home Inc
Po Box 35 Clinton, LA. 70722
(225) 683-5468
Richardson Funeral Home
Po Box 868 Clinton, LA. 70722
(225) 683-5222
St Francisville Funeral Home
Po Box 422 Saint Francisville, LA. 70775
(225) 635-3493